Friday Night Sharing
The 5th of April 2019, FIMD hosted DanseKapellet's platform-event, Friday Night Sharing:
A collaboration between external participants and viewings of internal, co-produced works.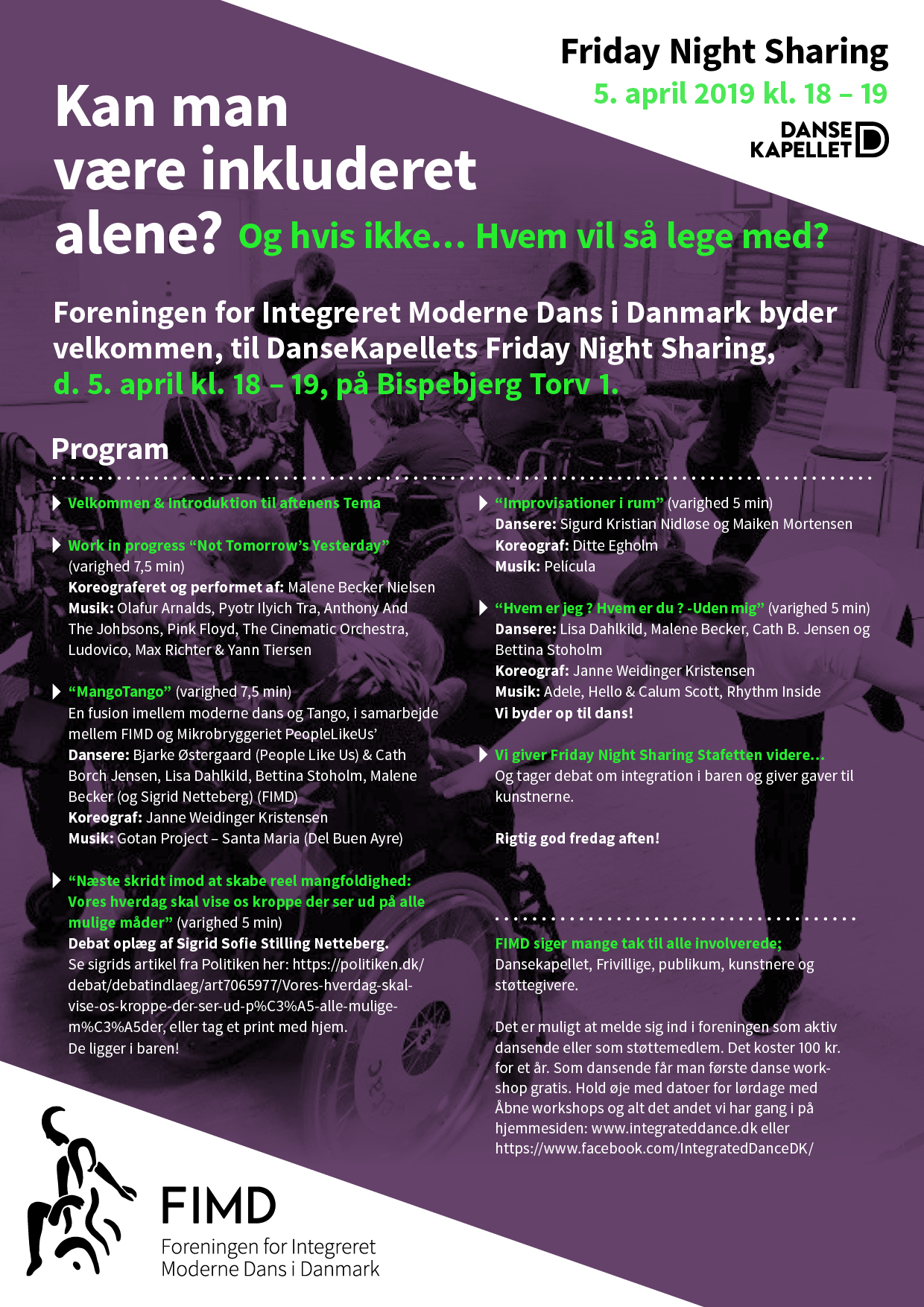 Can one be included alone?…And if not, who wants to dance?
This evening gave insight into the following productions and presentational themes:
Solo by Malene Becker:
Not Tomorrow's Yesterday (Duration: 7,5 mins) – Choreographed & performed by Malene Becker Nielsen.
Music: Olafur Arnalds, Pyotr Ilyich Tra, Anthony And The Johbsons, Pink Floyd, The Cinematic Orchestra, Ludovico, Max Richter & Yann Tiersen.
Mango Tango (Duration: 7,5 mins):
A fusion of modern dance and tango; A collaboration between FIMD's performance team and the microbrewery, People Like Us.
Dancers: Bjarke Østergaard (People Like Us) & Cath Borch Jensen, Lisa Dahlkild, Bettina Stoholm, Malene Becker (FIMD)
Choreographer: Janne Weidinger Kristensen
Music: Gotan Project – Santa Maria (Del Buen Ayre).
This short dance-fusion was performed five times during the spring and summer of 2019,
among others for the PA-Service DUOS, at Folkemødet in Bornholm and at Mikkeller Beer Celebration Copenhagen (MBCC).
Presentation by Sigrid Stilling Netteberg:
Taking the next step towards creating diversity.
Our everyday lives must portray and include diversly looking bodies.
View Sigrid's Politikken article, here.
Duet by Maiken & Sigurd:
Improvisations in space (Duration: 5 mins).
Dancers Sigurd Kristian Nidløse & Maiken Mortensen.
Choreographer: Ditte Egholm.
Music: Pelicula.
Who am I? Who are you? Without me… (Excerpt – Duration: 5 mins):
Dancers: Lisa Dahlkild, Malene Becker, Cath B. Jensen og Bettina Stoholm
Choreographer: Janne Weidinger Kristensen
Music: Adele: Hello, & Calum Scott:  Rhythm Inside.
Fotos af: Nuno Catharina Pedersen